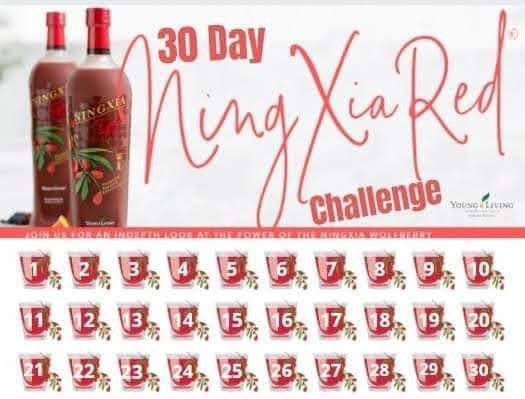 Jan 01, 2022 12:00 AM

–

Dec 31, 2025 09:03 PM

Central time

Join us for a 30-Day NingXia Red Challenge!
For this challenge y

ou will need to drink
at least 1-2oz. of

NingXia Red
a day, more if you can. Be sure to have enough on hand to complete the challenge!
Each day there will be a reminder to DRINK UP p
lus some fun facts,
a little history, recipes galore, and more!
Want to kick it up a notch?
This challenge will be going on all throughout the year via email/text.
Everyone who completes this challenge will be entered
into our random drawings throughout the year.
This year 4 lucky people will be going away with their own bottle of NingXia Red.
You can start this challenge anytime and take it as many times as you'd like throughout the year. Each time you complete it you will be entered into our drawing. You must check in all 30 days to qualify for the drawing.