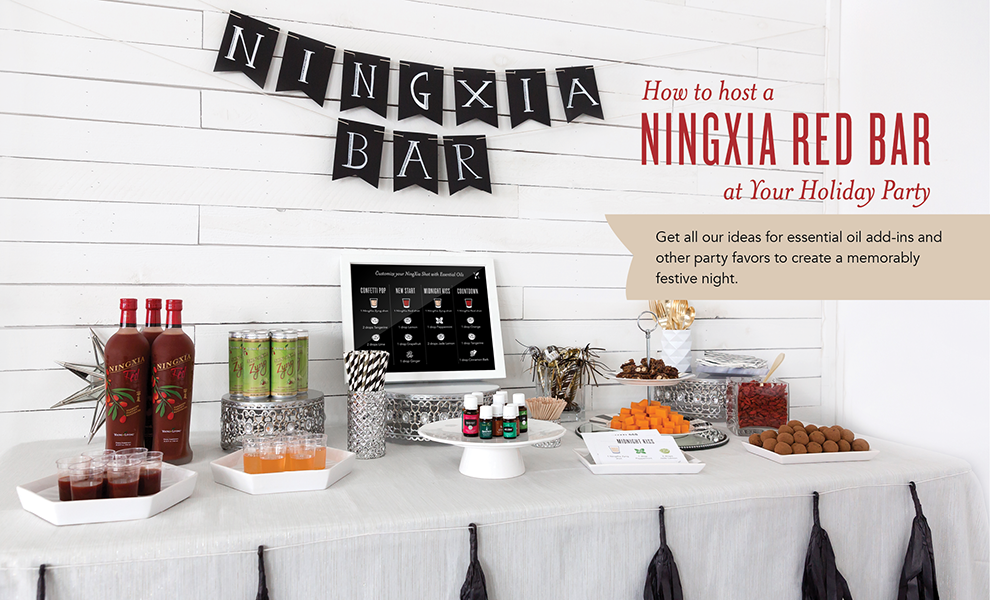 How to Host NingXia Red Bar at Your Holiday Party
Give your holiday party an essential oil-infused twist by hosting a NingXia Red® bar! This is a great way to introduce your friends and family to some of Young Living's member-favorite products in a casual setting. When you're hosting a party for the holidays, setting up a NingXia Red bar is a delicious addition to any gathering.


NingXia Red Bar Necessities



Prepare Your Table
One key to success is to clearly label all of your offerings. Not only are placards an easy and informative addition, they are also a great way to start a conversation! For your NingXia Red bar, try grouping select essential oils in front of an instructional sign so your guests can help themselves!


Make it Your Own!
Make sure to put your personal twist on your party! You can change up the decorations, make your own essential oil blends, or find unique ways to share your favorite products. Want to include a NingXia Bar with your make-and-take party? Check out more ideas in our
How to Host a Young Living Make-and-Take Party
blog post. We wish you happy holidays and hope that your NingXia Red bar will be a great success!